ALTERNATIVE WEDDING SERVICES
ANIMATED WEDDING INVITATIONS
Wedding invites or save the dates to pay out for?
Has your wedding been rescheduled?
If the answer is YES then we have the solution for you..
​
Let all your guests know your new date by purchasing a unique personalised animated wedding invite (up to 59sec).
TABLE PLANS AND NAME PLACEMENTS
Tables plans can be a mind field so let MOSSYMEDIA take care of it for you.
Are you having a themed wedding?
A colour scheme or maybe NOT so traditional?
Give your big day that special touch with a personalised table plan for your guests to suit any unique or bespoke ideas IN ANY SIZE
We can even create your name placements to match.
We leave all the printing to you, to find the best deal out there this is a design purchase only
​
Please Note – Design ONLY our price does not include printing.
Prices vary across the country. If requested we can assist or print at an additional cost
Are you wanting a videographer but it's cutting too far into
your budget after Lockdown?
How can you capture memories of your day without the cost?
We have an affordable answer ….
Get your friends and family to film the BIG DAY on their phones and we can piece it together to capture those magical moments from your wedding day.
We can give you little hints and tips to tell your budding
videographers what to do.
This is a pre-paid service and MOSSYMEDIA will make it look as professional as possible but, this will obviously depend on phone quality and whether people have had a champagne or 5
​
INCLUDED:
This would cost £250 for a 30min - 1 hour Digital Edited Copy
(Dependent on footage and how much people have filmed)
Edited by a certified editor to a professional standard
(Footage dependent)
We can place it on our private viewing page
with a password for guests to see.(£20 hosting fee)
A hints and tips page will be sent before the wedding
for the wedding couple to send to guests, or print for the day
Take some stress out of wedding planning and be ensured that your invitations will be taken care of professionally and without going over budget.
​
Add that personal and bespoke touch to your wedding invites by having a custom and exclusive design by MOSSYMEDIA.
​
It is your special day so nothing less than the perfect invite is good enough.
​
Traditional, themed, comedic
whatever you have in mind we can deliver …
Please Note – Design ONLY our price does not include printing.
Prices vary across the country. If requested we can assist or print at an additional cost
MUSIC MIXES & VOICEOVER ENTRANCE MUSIC
Too many songs to choose from for your first dance? Don't get into a domestic before the Big Day …
Contact MOSSYMEDIA we can cut, mix and edit your music choices to include as many tracks as you want.
Maybe you want a surprise performance for your guests / bride / groom with members of your wedding party…
Are you after a cheesy mix, a rock rave or smash hit musical medley, whatever your request we can deliver.
​
Music Mixes available on digital format USB, CD, mp4,
(USB priced separately.)
If you are not technically minded please do not hesitate to ask any questions.
MANCHESTER BASED DANCE TEACHER AND CHOREOGRAPHER AVAILABLE ON REQUEST
​
VOICEOVERS
MOSSYMEDIA has the privilege of working with one of the top voiceover impressionists in the UK Jon Clegg.
​
Jon was a finalist on Britain's Got Talent, voiced many popular TV programmes and worked on top cruise-liners around the world.
​
why not get a voiceover introducing you into the venue, such as Ant & Dec, the XFactor man, Alan Carr, Michael Mcintyre, Sarah Millican & many more....
VOICEOVER FOR THE COUPLES ENTRANCE ©MOSSYMEDIA
MEMORY VIDEOS AND WEDDING GRAPHICS
MEMORY VIDEO
A memory video with a difference to remember loved ones that can't be there on your special day.
This includes a personal selection of photos or videos with your loved ones
favourite music tracks played in the background.
An emotional and heart felt tribute.
Perfect for church weddings if they have screens.
FRIENDS & FAMILY MEMORY VIDEO
Send us a variety of pictures or short video clips of happy times & memories that have involved your wedding party and guests.
​
We will edit this into a special memory video (with or without a music) which can be played on screens as people enter your venue, taking their seats at or even through your wedding breakfast.
​
A unique idea for you and your guests to reminisce and enjoy
GRAPHICS
Wedding graphics to add a classy touch to your wedding venue.
WATCH THE VIDEOS TO SEE MORE...
Memory Video for the ones that couldn't be with us today ©MOSSYMEDIA
MOSSYMEDIA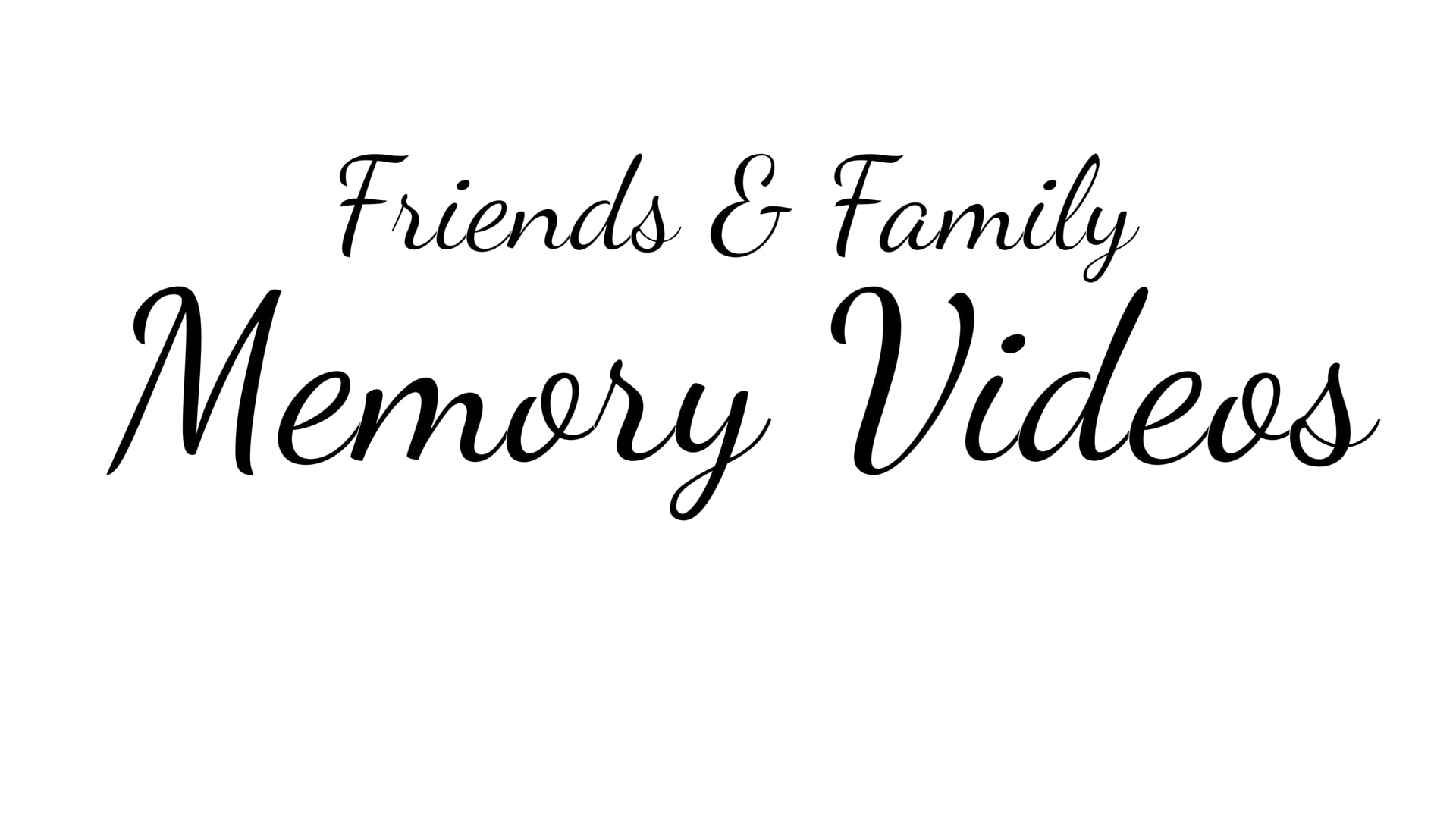 Friends & Family Memory Video ©MOSSYMEDIA
MOSSYMEDIA
Wedding Graphics ©MOSSYMEDIA
MOSSYMEDIA